STAY IN THE JUNGLE: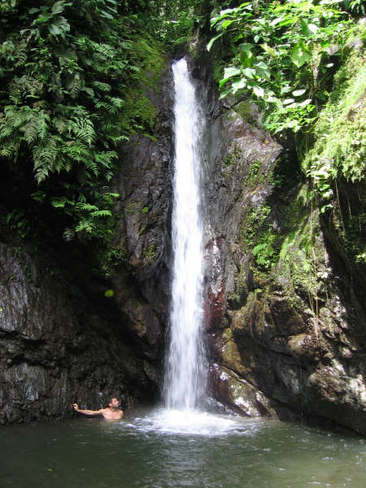 Bonanza waterfall #2
If you want to be immersed in nature, this is the place to do it! With many waterfalls and beautiful ocean views, Bolita is a low-impact hostel, on over 61 hectares of rainforest, in the Golfo Dulce Forest Reserve. It's bordered on one side by the beautiful Rio Tigre, and on the other side by Corcovado National Park, one of the most bio-diverse places on earth! We are nestled in Costa Rica's Osa Peninsula, next to the small gold mining village of Dos Brazos de Rio Tigre.

Hear the birds and Howler monkeys every morning as you watch the sunrise over the Golfo Dulce. There is an updated kitchen (no refrigeration), roofed picnic table, and hammocks for relaxing. For sleeping, you have a choice of comfortable dorm style individual or double beds, complete with mosquito nets, at $14/p/n. For a bit more privacy, cabinas with private seating are $40/2.
​Casa Bolita is a fully renovated stand alone house at the entrance of Bolita starting at $109/n. All accommodations include the use of our trails!

KITCHEN AND POWER FACILITIES:
The hostel is off grid run only by solar panels and batteries. There is minimal lighting to see your way around at night, a telephone charging station, and WIFI, guaranteed to be slow. You must bring all your food with you. You can cook in one of 2 kitchens, equipped with gas stoves, and all pots and utensils, and dishes you'll need for cooking, and eating, but no refrigeration. See the FYI section for what food to bring.



​GO NATURAL IN NATURE:
Starting on December 15 2021 Bolita Hostel and Trails will be clothing optional with the exception of the kitchens. This is a non-sexual, safe, respectful environment - without exception. No one will ever be pressured or even asked to participate. Clothing or not, everyone is welcome at Bolita. Please note: this has no impact on Casa Boita.
---
15 KILOMETERS OF TRAILS: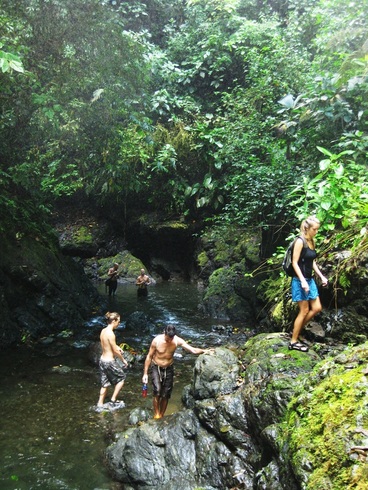 Hiking in Rio Tigre
We've created a series of trails that meander through the sixty plus hectares of rainforest, and in total comprise ​15 kilometers of hiking. Experience the fascinating wildlife and excellent birdwatching, as you hike through our self-guided trail system. You can visit one of the many waterfalls, or you may choose to take a walk down Rio Tigre where you can take a dip in the pools along the way. Yet another set of trails will bring you to a spanning view of the Golfo Dulce.
We are also happy to arrange other activities such as gold mining, bird, and horse tours, as well as hiking to other parts of the Osa. You may want to visit the swimming hole on the other side of town, or visit the
local soda (cafe).
---