There is a 30 minute walk on a beautiful rain forest trail, to get to Bolita. You should arrive at the office in Dos Brazos before 5:00 pm, in order to reach the Hostel before dark.


FROM SAN JOSE TO PUERTO JIMENEZ.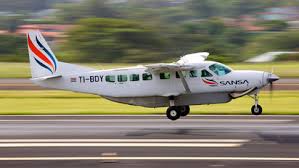 Puerto Jimenez is the largest town in the Osa Peninsula. Unless you are driving, you'll need to get there first to take a connection bus to Dos Brazos.
BY AIR: Sansa has multiple daily flights to Puerto Jimenez for around $140, 45 minutes. You can check their website at flysansa.com for schedules and fares.
BY BUS: There are 2 options.
1.Buses leave from the "Lobo Blanco" bus stop daily at 8 a.m. and 12 noon. Cost is about $14 US and takes eight to nine hours. "Lobo Blanco is located on calle 12, between avenidas 7 and 9, in downtown San Jose. Please note: the 8:00 am. bus from San Jose will get to Puerto Jimenez after 4:00 pm., so you will miss the 4:00 minibus to Dos Brazos. You can take a taxi to Dos Brazos, for about $25 US.
2. To get from San Jose to Bolita in one day, take the 7:00 am. Tracopa (Calle 5 and Av. 18) bus to Golfito, you should arrive by 2:00 pm. exit at the Lancha, and take the ferry
(30 minutes $6)
across the Golfo Dulce, to Puerto Jimenez .
​
​BY CAR:
www.openstreetmap.org/directions?engine=osrm_car&route=8.5500%2C-83.3384%3B8.5275%2C-83.4086#map=14/8.5384/-83.3735
​
From San Jose, follow the Interamericana HWY 2 South. Turn right at Chacarita on HWY 245, Turn right at El Ñeque, just before the Rio Tigre bridge. Drive on this gravel road, and make the second left at Gallardo (about 10 minutes in). Now drive to the end of the road to reach Dos Brazos. You'll go over a bridge, and see a phone booth, school, and a sign pointing to the Bolita office. Please note: do not follow driving directions on Google maps, as they have not yet correctly mapped the Osa Peninsula.
---
FROM THE PANAMA BORDER AT PASO CANOAS To Puerto Jimenez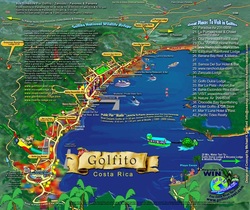 If you're coming from Panama and crossing the border at Paso Canoas, take the Golifinero bus to Golfito. It runs about every 1.5 hours from a bus station just across from the Costa Rica border crossing. (Make sure when you are checking the schedule you are looking at Costa Rican time since Panama is one hour ahead of Costa Rica) The trip takes about 1.5 hours, and costs $2 US. In Golfito, exit the bus at the "Lancha" (ferry) to Puerto Jimenez. The ferry runs every couple of hours during the day, takes 1/2 hour, and costs $6 US.
---
FROM PUERTO JIMENEZ TO DOS BRAZOS DE RIO TIGRE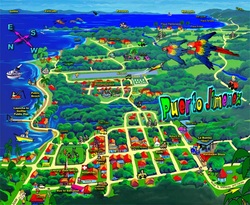 A micro bus goes to Dos Brazos from the "Groupo Materiales" hardware store, located a block away from the main street, on weekdays at 11 a.m. and 4 p.m. The 14 kilometer trip takes 40 minutes and costs $4 US, but no weekend service. You can also get here by taxi for about $25 US.

Once you are in Dos Brazos, follow the signs to the office, which is a 7 minute walk from the bus stop. We will check you in, orient you, and send you on your way for the beautiful, but somewhat aggressive 30 minute hike through the rainforest, up to Bolita. You're welcome to leave extra packs at the office during your stay. Night arrival is not available. You must arrive at the office in Dos Brazos before 5:00 pm. so that you can get to the hostel in daylight.
---