Enjoy our green season rates, now until October 1.
ACCOMMODATIONS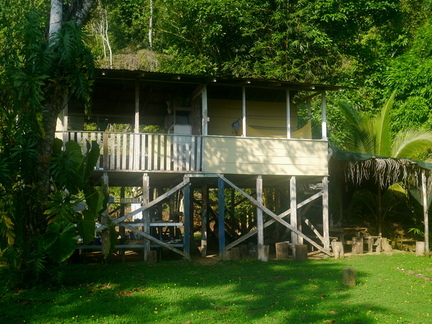 The dorm house at Bolita
Stay in the original rustic farmhouse, and cook your own food in the fully equipped kitchen, supplied with fresh spring fed drinking water! Our water source originates on the Bolita property, and is captured as it exits the rocks.
Dorm style beds with all bedding and mosquito nets, are located on the second floor of the house, which includes one double private room. On the ground floor, is the kitchen, hammocks for relaxing, and a palm leaf roofed picnic table for dining. Dorm beds are $12 / person, private double dorm room for $24/ 2 people, and cabinas, with a double bed, or two individual bunk beds, deck, and seating in front. $30 for two people. Unlimited trail use is included with all rooms.
BRING FOOD AND FLASHLIGHT! BRING FOOD AND FLASHLIGHT! BRING FOOD AND FLASHLIGHT!!
No electricity or refrigeration on site. Food can be purchased at one of the two small grocers in Dos Brazos, but please note they are closed on Sunday. For a wider selection, and fresh fruits and vegetables, shop in Puerto Jimenez before making your way to Bolita.
Suggested footwear: rubber boots, "Crocs" type shoes, or river shoes, for hiking, as there are a few locations where walking through water is necessary. Slip on-and-off sandals for the house.
ALSO AVAILABLE:
​
Bag storage at the office (included).
Seasonal fruit and edible plants when available (bananas, mangoes, sour sop, etc.).
Charge camera/computer equipment at the office.
USB charger for small devices such as cameras and phones, located at the Bolita site.
---